No results were found for the filter!

Speed LCS 100 Light
Developed by world champions - Klaus Lettmann and Lutz Lewowski put lots of time, commitment, passion and expertise in our Speed for it to merit its name. This paddle did not only inspire competitive athletes around the globe, but also...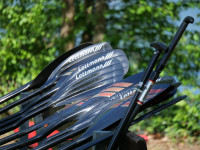 Test paddle
We won't leave you out in the rain - order your favorite(s) to take home and try out our paddles at your leisure. After that you can definitely make a decision.

Warp LCS 70
Although we've brought out a newer racing paddle, doesn't mean the Warp is out of date. This revolutionary paddle was created by Klaus Lettmann, Lutz Lewowski (world champion) and Martin Heidrich (naval architect) und offers enormous...