No results were found for the filter!

Profile Tour LCS 70 Small II Wahl
Keine Lust auf krumme Dinger? Dann werf einen Blick auf das Profile. Es betört dich mit den Vorteilen eines profilierten Blattes, verführt dich mit flatterfreiem Zug, unfassbar gutem Vortrieb und einer Steifigkeit, die ihres Gleichen...

Ergonom C1 LCS70 Downriver
The unique paddle! We searched a new concept of paddles and we have developed the Ergonom Pro. Whether the face of the blade was reduced, you have 7 % more power. It is because of a change of the angle from blade to shaft, another...

Ergonom C1 LCS70
Designed for kayakers to paddle with ease and without hurting your wrists - our Ergonom Pro Tour. The development of our ergonomic shaft set a milestone in the world of kayaking that creates the base for comfortable paddling. Automatic...
Rapa Light Glas Schaft Paddel
Wildwasserpaddel mit Glasfaserschaft und stabilen, aber angenehm leichten verstärkten Polyamid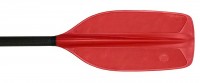 Scout Stechpaddel
Du suchst Performance zu einem günstigen Preis. Scoute doch mal das Scout. Ein solide gearbeitetes Paddel mit gekehltem Blatt. Es steht sauber im Wasser, lässt sich präzise führen und ist extrem robust.

Paddel Bag DeLuxe Single
Paddel Bag DeLuxe Single Paddel Bag for Paddles -> 230cm Color black/orange

Coast Paddel rot 2tlg
The coast is your territory? Or you just wanna explore the earth's seas and lakes with a flat paddle-technique? The Coast is just the right companion for you and will accompany you for a long time, thanks to good pressure build-up and...

Sunrise Paddle red / parted
Paddling towards the sunrise and starting the day off with some nice paddle strokes. The sunrise offes nice traction and stiffness combined with a good cost-effectiveness.